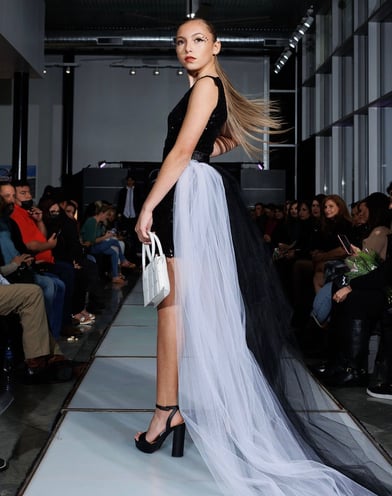 Runway Model
ing & Etiquette
Ages 4 & Up ● 15 week course
Learn modeling techniques for runway and fashion shows.
Develop skills needed to improve appearance through poise, posture and walking.
Improve visual presentation and confidence.
Learn etiquette & social graces.
Dining etiquette, table manners and table setting.
First impressions, introductions, sitting positions.
Skin care, makeup application and hair styling.
Photo posing. Learn model poses for photo shoots.
At the end of the course students have the option of taking modeling photos to begin working on their portfolio or comp card.
Graduate models may be assisted in placement and professional representation with a reputable modeling agency.
This course is for students who have already graduated from modeling.
Modeling Instructor Course
Ages 16 & up ● 10 week course
AGES 4-12 - 5:30PM TO 6:30PM
AGES 13 & UP - 5:30PM TO 6:30PM
ADVANCED - 6:30PM TO 7:30PM
AGES 4-12 11:00PM TO 12:00PM
AGES 13 & UP 12:00PM TO 1:00PM